Thousand Character Classic in running style/行书千字文
Thousand Character Classic in running style/行书千字文, standard 40x26.7 inches, giclée printing, ink on watercolor paper.
Thousand Character Classic on the background of the image: it's a Chinese poem used as a primer for teaching Chinese characters from the sixth century. The Thousand Character Classic covers knowledges and wisdoms in astronomy, geography, politics, economy, society, history and ethics, etc. Each of the four-character couplets, in its succinct and poetic form, expresses deep and profound meanings. It is also sung in a way similar to an "alphabet song". From Liang Dynasty (502) to Qing (1912), numerous Chinese legendary calligraphers contributed their works on the thousand character classic.
Running style is derived from clerical script, and was for a long time after its development in the 1st centuries AD the usual style of handwriting. Some of the best examples of semi-cursive can be found in the work of Wang Xizhi (321-379) of the Eastern Jin Dynasty.
Thousand Character Classic in cursive style/草书千字文
Thousand Character Classic in running style/草书千字文, 40x40 inches, giclée printing, watercolor, ink on watercolor paper.
The text on the model's body: Tao Te Ching
The Tao Te Ching, along with the Zhuangzi, is a fundamental text for both philosophical and religious Taoism, and strongly influenced other schools, such as Legalism, Confucianism, and Chinese Buddhism. Many Chinese artists, including poets, painters, calligraphers, and even gardeners, have used the Daodejing as a source of inspiration. Dào/tao literally means "way," or one of its synonyms, but was extended to mean "the Way." This term, which was variously used by other Chinese philosophers (including Confucius, Mencius, Mozi, and Hanfeizi), has special meaning within the context of Taoism, where it implies the essential, unnamable process of the universe. Dé/te means "virtue," "personal character," "inner strength" (virtuosity), or "integrity." The semantics of this Chinese word resemble English virtue, which developed from the Italian virtù, a now-archaic sense of "inner potency" or "divine power".
Tao Te Ching: Chapter 45 translated by Kari Hohne (2009)
Great perfection will always appear chipped,
but its usefulness will not wear it out.
Great fullness seems empty
but its usefulness is inexhaustible.
Great straightness seems bent.
Great skill seems clumsy.
Great eloquence seems inarticulate.
Restlessness always overcomes the cold
while stillness always overcomes the heat.
Without doing anything, you can be the leader of the empire.
The Moon is Down
The Moon is Down, 40x40 inches, giclée printing, ink on watercolor paper.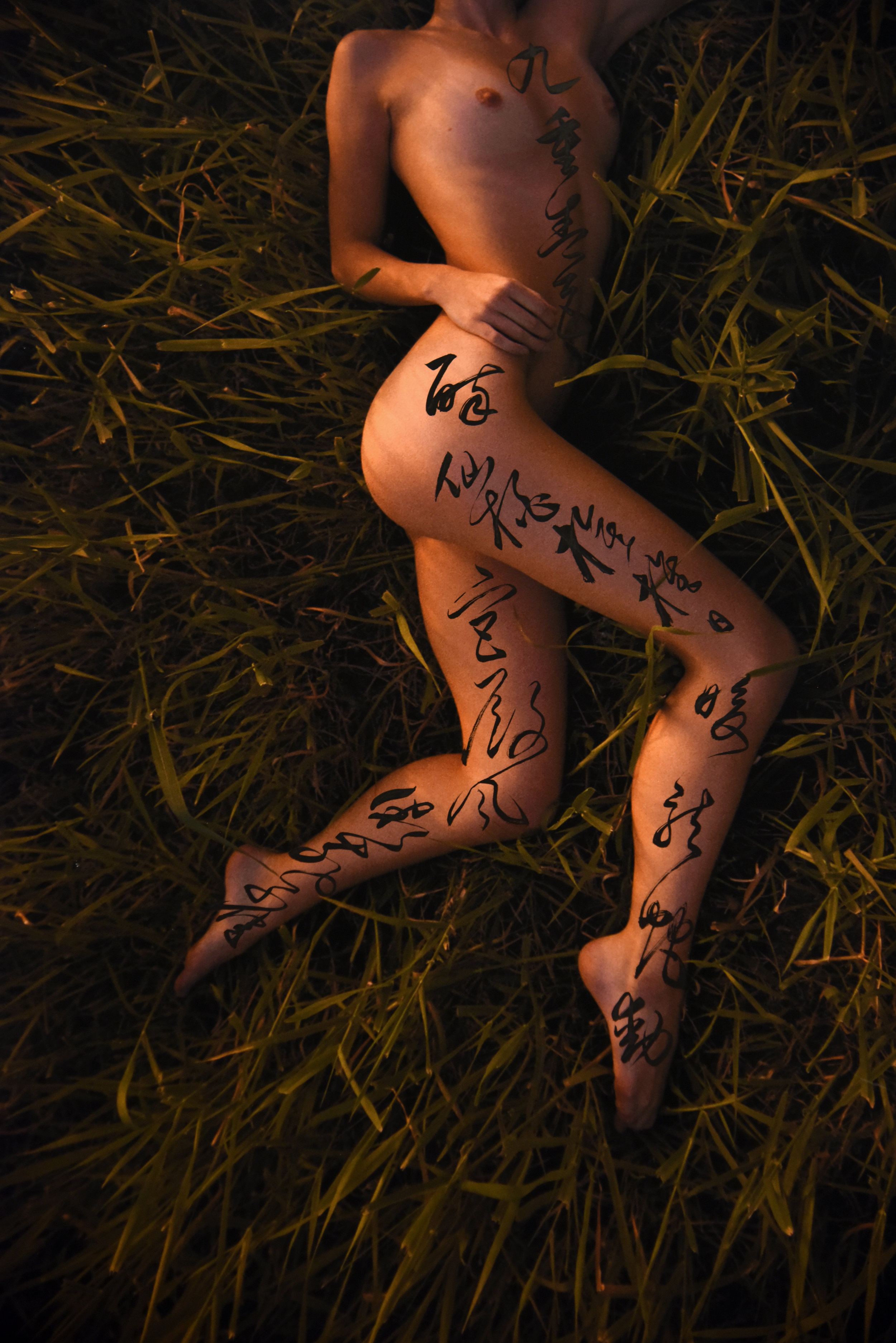 Spring Fever
Spring Fever, 40x25.8 inches, giclée printing, ink on watercolor paper.
Sonnet from Tu Fu
"九重春色醉仙桃。旌旗日暖龙蛇动,宫殿风微燕雀高。"
"Abundant of spring color glaze the fairy peach.
The shadows of flags resembling snakes and dragons in breeze gently move.
Swallows and sparrows on a warm day chant high above many a palace roof."
In Asian culture, Spring fever in general refers to an increase in energy, vitality, and particularly sexual energy, as well as a feeling of restlessness, associated with the end of winter.
Spring here is definitely used as a metaphor for both the color of the image and the ambiance.